Features
99.7% efficiency on sub-micron particles
Progressive filtration system
Controls both airborne participate
and gas-phase pollutants
Mounts flush with ceiling
Multidirectional exhaust louvers
Baked on white enamel finish
The MICROCON CD is a ceiling mounted air filtration system that is specifically designed for the removal of both airborne pollutants and gaseous contaminants from indoor environments. Placed in a standard 2' x 4' T-bar ceiling channel, air is drawn through the center grille section, prefiltered, and final filtered before being exhausted through two carbon filter cells. Clean air, free of particulate and gaseous odors, is reintroduced to the room. Air changes, filtration, dilution and gas phase contaminant removal will provide a healthier environment.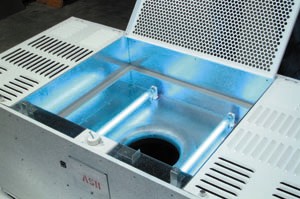 MICROCON® CD with HEPA filter removed to show optional UV lamps



Ultraviolet (Ultra Violet) Ultraviolet germicidal (UV) radiation in the 254-nanometer wavelength has proven effective in killing most types of airborne bacteria and viruses. Coupled with a high efficiency filter cell upstream of the two UV lamps the germicidal effectiveness is greatly enhanced. The addition of the UV lamps to the MICROCON® CD provides for a "total air quality solution" for just about any indoor environment.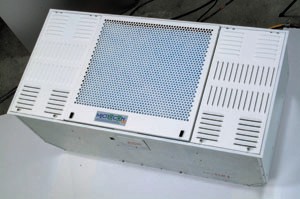 Filtration
The MICROCON® CD is a three-stage progressive filtration system. The first stage is a 1" thick synthetic pre-filter designed to contain larger size airborne particles thereby extending the life of the final filter.
The secondary or final filter is a hospital-grade, high-efficiency pleated filter cell capable of removing virtually 100% of airborne particles in the sub-micron range. Since removal of gas phase pollutants require a different capture mechanism - carbon or charcoal, a unique carbon composite cell is utilized as the last stage which allows for higher adsorbent loading at a lower pressure drop than comparable carbon cells.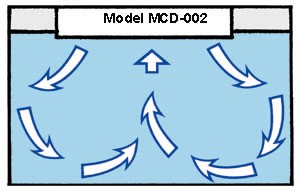 Performance


The MICROCON® CD delivers up to 1000 cfm of filtered air at varying speeds. For example, in a room that measures 20X20t, with an eight-foot ceiling, over 18 air changes per hour can be achieved or one air change every 3.5 minutes.

Exhaust louvers are positioned to channel filtered exhaust air in four different directions to provide for good air dispersion and mixing within a room. Air quality improvement will result by maximizing the air movement and creating airflow patterns throughout the room. The entire exhaust plenum interior is lined with foam soundproofing material to further reduce sound levels.